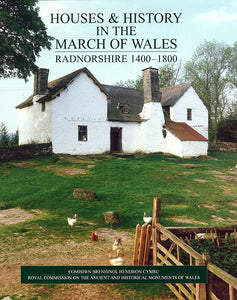 Houses and History in the March of Wales: Radnorshire 1400-1800 (eLyfr)
Dim ond yn yr iaith Saesneg y mae'r llyfr hwn ar gael.
Mae'r teitl hwn bellach allan o brint, ond mae ar gael fel eLyfr.
This volume is an attempt to define and date different forms of medieval homestead, and to trace their development in the post-medieval period. The recovery and dating of hall-houses of differing status are major preoccupations of the work. The volume also attempts to place houses in their social contexts. It is a study of homesteads: that is, a study of houses and their immediately associated buildings. Although early free-standing farm buildings are rare, ranges combining house and cowhouse are a key housing type.
A special effort has been made to present visually the results of survey. The text is, to some extent, an extended commentary on the reconstruction drawings. The drawings present interpretations of buildings that have changed dramatically (often with stone replacing timber walls) or have been destroyed since survey. The volume is arranged in four parts. First, the special value placed on timber construction is analysed. Secondly, the plan-types and dating of medieval dwellings are discussed. Thirdly, the transformations of medieval dwellings are charted. The fourth part provides an overview of building survival and upland settlement, drawing on architectural, archaeological, and documentary evidence. The final section analyses the range of fifteenth- and sixteenth-century cruck-trusses recorded during the study and summarizes the results of dendrochronological dating.
CONTENTS
LIST OF COMMISSIONERS
DRAWING CONVENTIONS
AUTHOR'S PREFACE
INTRODUCTION
LAND AND PEOPLE: 'RADNORSHIRE, POOR RADNORSHIRE...'
PART I. CONTEXTS
CHAPTER 1. THE STRUCTURAL FRAMEWORK: TIMBER VERSUS STONE
CHAPTER 2. THE SOCIAL FRAMEWORK: LORDSHIPS AND TENANTS
PART II. ORIGINS: THE LATE-MEDIEVAL AND TUDOR HALL-HOUSE, 1400-1550
CHAPTER 3. GREAT HALLS: HALL-HOUSES OF LORDSHIP STATUS
CHAPTER 4. GENTRY HALL-HOUSES: THE TWO-BAYED HALL
CHAPTER 5. PEASANT HALL-HOUSES: THE SINGLE-BAYED HALL
CHAPTER 6. WINGED HALL-HOUSES IN COUNTRY AND TOWN
PART III. TRANSFORMATIONS: HOW HALL-HOUSES CHANGED, 1550-1800
CHAPTER 7. GREAT HOUSES: MID- AND LATE-TUDOR CHOICES IN PLANNING AND MATERIALS
CHAPTER 8. HALL-HOUSES AND STOREYED HOUSES: THE PROCESS OF CONVERSION
CHAPTER 9. PEASANT HALL-HOUSES AND LONGHOUSES
CHAPTER 10. OLD HOUSES AND NEW PLANS
PART IV. OVERVIEW: BUILDING CHRONOLOGIES, 1400-1800
CHAPTER 11. SURVIVING HOUSES AND BUILDING CHRONOLOGIES
CHAPTER 12. LOST COTTAGES: SUMMER DAIRIES AND SQUATTERS' DWELLINGS
APPENDICES
APPENDIX 1. THE CRUCK-TRUSS
APPENDIX 2. TREE-RING DATES
NOTES AND REFERENCES
LIST OF LATE-MEDIEVAL SITES
PARISHES AND COMMUNITIES
LIST AND SOURCES OF ILLUSTRATIONS
INDEX